Mrs K. diabetes control journey with Platos Health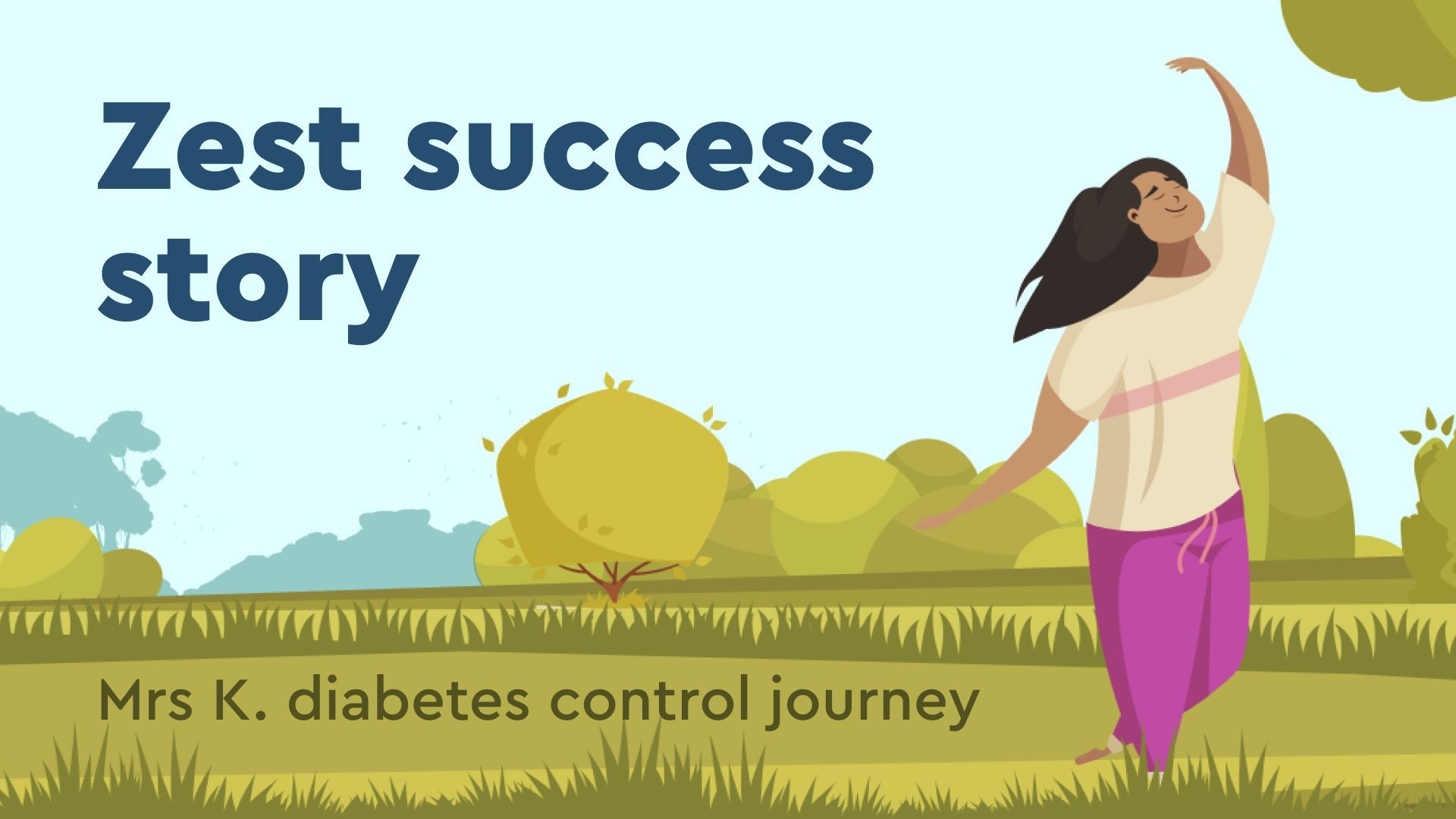 Kuburat Kolawole is a 45-year old renowned business woman in the city of Abuja with 7-years history of type 2 diabetes.
Although she was diagnosed in 2015, she had hyperglycemia related symptoms such as frequent urination and hunger prior to the diagnosis. She had a family history of diabetes in both parents, however, she has limited knowledge regarding diabetes self-care management despite both her mother and father having type 2 diabetes.
In the past, her sister in-law had encouraged her to treat diabetes with herbal remedies and weight-loss supplements, and she sometimes scans the internet for the latest diabetes remedies.
Herbal concoction was the first solution she opted for, however, her case never improved as the herbal content was high in sugar and led to a spike in her blood levels. She later took on supplements following her sister in-law's recommendation.
Finally, Kuburat made a visit to the pharmacy when it seemed like the concoction and supplement were ineffective as expected. She was given metformin 1000g as a prescription. After 2 weeks of using it, there was no visible tangible result. She had tolerated these medications and adhered to them as often as she could, all to no avail.
For 3 years, Kuburat had also restricted her diet to meals consisting of beans, unripe plantain and wheat in an attempt to improve her diabetes control. Kuburat had to put a final stop to her supposed diet and medications when she didn't see any improvement and at that time, her case had worsened.
Her sugar level remained the same and she couldn't keep up with her supposed diet plan. She developed complications such as drastic weight loss in 7-months and her FBS ranges between 250-320mg/dl with symptoms of blurry vision and burning sensation on both feet.
Supplements and metformin are not bad medications. However, they can't be effective if not used in conjunction with a diabetes lifestyle intervention program.
Kuburat claims she does not understand why she has diabetes since she never eats sugar. Recently, before her diagnosis, she had opened another line of business and was very active in a variety of volunteer organizations.
She was sure her health needed real and quick medical attention and so also her business, especially the new one she just opened. Kuburat decided to opt for a platform where she could avoid unnecessary long queues and frequent visits to the hospital and also get utmost care. She found Platos Health while on the internet searching for more solutions to her diabetes. Her sister in-law had offered to help look after her business while she gets medical care at the hospital, but according to her, she's the best person to attend to the new line of business at the early stage.
On getting to Platos Health, Kuburat presented with uncontrolled type 2 diabetes and a complex set of comorbidities, all of which needed treatment. Her FBS at presentation was 245mg/dl. She had blurry vision, neuropathy and had lost so much weight. She mentioned her diet life has been terrible as she restricted herself to only 3 diets but still had spikes everyday.
Before joining Platos Health, Kuburat had never seen a dietitian and had not been educated on self-monitoring of blood glucose. Her physical activity has been fairly sporadic and weather-dependent.
After counseling and consultation sessions with the care team at Platos, she was added to Platos Health community and given the following prescriptions:
On Diet, Kuburat was placed on a low carbohydrate diet and was counseled to diversify her diet and control her portion intake. The dietician at Platos recommended 4-5 servings of vegetables a day and 2-3 servings of fruits/day. Kuburat recognized that her glucose control was affected by her excess consumption of her supposed diet consisting of beans, wheat and unripe plantain; she agreed to start improving dietary control by reducing her portion size.
She started diversifying her diet after consultation with adherence to the prescribed portion for each diet while enjoying all her local foods such as Eba, Amala, Semo, Rice, Yam, Potatoes, Porridge and so on. Kuburat also incorporated non-starchy vegetables in her diet 3-4 times a day. She eats cucumbers, garden eggs, ugwu, okra and so on.
On medications, she was placed on Tab Glucophage 1000mg bd, Tab Diamicron 60mg daily, Tab Gabapentin 300mg nocte which she followed to detail.
With an understanding of the positive effect physical exercise can have on glucose control, she moved from being sedentary to being physically active. Her sister in-law suggested that two of them could walk each morning after breakfast. She does brisk walking and dancing 45 mins daily between the hours of 9am and 10am together with her sister in-law.
During this process, Kuburat learned to use a glucometer as she now understood the need for glucose readings to guide and to evaluate the effects of her medications and dietary changes. Kuburat and her sister in-law were quite willing to learn and read materials that addressed the prevention of diabetes complications. They both believed that if she had gotten some education on diabetes while her parents struggled with it then, she would probably not be in this condition.
Her care team at Platos reviewed blood sugar (glucose) goals with Kuburat, the patient and assisted in deciding on initial short-term goals for weight management, exercise, and medication. Glucose monitoring would serve as a guide and assist Kuburat in modifying her lifestyle.
After 1 week of her diet and drug regimen, results showed that she started having values such as 150, 130, 132mg/dl. After a month, Kuburat's values range between 87 to 105mg/dl.
And at 3 months, she was having 70-100mg/dl, the burning sensation gone, no more frequent hunger or urination and she was happy with her readings.
Kuburat will be rounding up her care program at Platos Health soon, however, the care team would facilitate the continuity of her care and keep vital pathways of communication open.
There are many others like Kuburat in our community who are happy and now living with energy. Join our community here to meet them.